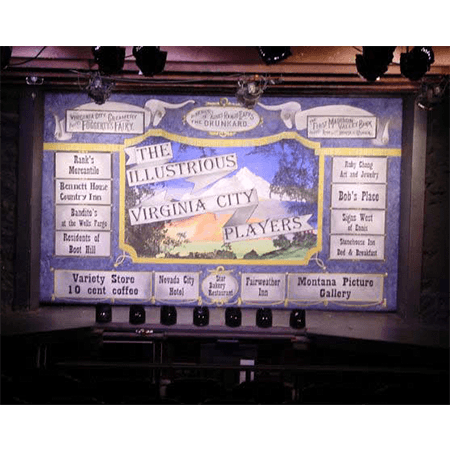 Cremona Photoplayer
Location: Opera House
Manufacture Date: Circa 1915
A source of endless curiosity and delight for the visitors of Virginia City is our Cremona organ located in the orchestra pit of the Opera House. Newcomers are always asking, "What's the source of all those bells, percussion, and pipe organ sounds?"
In the 1920s, the accompaniment to silent films and vaudeville was provided by live musical instruments. Makers of player pianos and orchestrians (mechanical orchestras) began to create a wide variety of self-contained, theater orchestras (photoplayers), designed for movie houses for an orchestra or full-scale, theater pipe organ.
Most photoplayers consist of an upright player piano unit rigged with organ stops and foot buttons which controlled additional instrumentation housed in one of the two separate cabinets. The photoplayer operator would push buttons or tug on ropes to activate the various sound effects suitable to the screen action. Many photoplayers were equipped with two-player roles, and by switching back and forth, the mood of the music was varied.
This Cremona is a wonderful example of the type, a "Cremona Theatre Orchestra, solo style M-3." It is sixteen feet wide and features two side chests containing flute, violin, bass pipes, xylophone, bass drum, crash cymbal, tom-tom, tympani, snare drum, sleigh bells, tambourine, castanets, cathedral chimes, triangle, and train bell. It was manufactured in Chicago by the Marquette Piano Co., whose wide variety of coin-operated player pianos, orchestrians, and photoplayers were sold under the Cremona trademark and were regarded as "top of the line." No expense was spared in their creation, from the piano keys of genuine ivory to the double-veneered hardwood cases, newborn calfskin bellows, imported felt piano hammers, and overstrung scale (imparting the piano with an extraordinarily rich tone most notably in the mid-bass range).
Photoplayers were advertised to theater owners as late as 1928. Costing as much as six thousand dollars, they were a major investment. Nevertheless, with the advent of talking pictures, photoplayers swiftly became a relic of a past era.
During this initial period of disuse, most of the instruments were destroyed. With a "white elephant" on their hands, theater managers often removed the player mechanism in an effort to sell the piano unit to help offset their enormous purchase cost. (For years following the depression, a piano stripped of its player mechanism had a better market value than one with the mechanism intact.)
The various drums and sound effects were dismantled and sold individually or given to children as playthings. The remaining mechanical parts, rendered useless, were hau1ed off to the city dump. The machines remaining in theaters usually suffered moth, rust, or fire damage over the years. Photoplayers were largely overlooked during the 1940s and the 1950s when private collectors first revived interest in the player pianos and nickelodeons. An instrument of this size and volume wou1d hardly be welcome in a typical suburban rumpus room! Today, of the thousands that were distributed across the United States, only four Cremona photoplayers are known to exist. Only two Cremona photoplayers are still in use in theaters. One is in Virginia City; the other is in Sydney, Australia.
It was discovered in a Deer Lodge, Montana drugstore hidden behind a wall installed when the original movie theater was remodeled for retail use. After its rehabilitation in 1950, it was installed in the Virginia City Opera House. Its music has lent a unique air of merriment to our presentations every summer since.