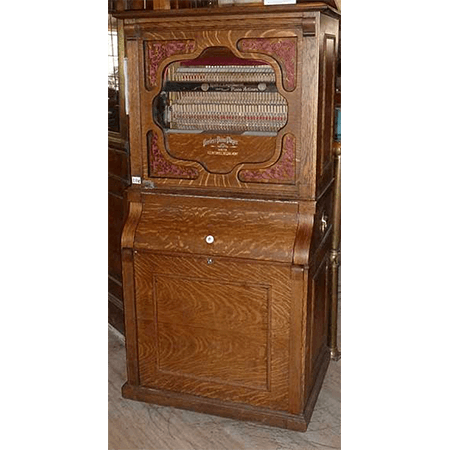 Peerless 44 Note Piano
Location: Music Hall
Manufacture date:
1902
The exact origins of this machine remain a mystery but the experts at Virginia City have done their best to uncover its secrets.
Made by the Engelhardt Piano Co., St. Johnsville, NY. This model was one of America's first coin-operated pianos, introduced circa 1902. Only 15-20 examples still exist. Peerless liked the endless roll, which avoided all the problems associated with roll rewind. The "roll" is a continuous paper loop, which allowed pianos similar to this to play from early morning to late at night uninterrupted in saloons and penny arcades. Most of the musical arrangements are true classic ragtime.
This particular piano was "made for A.D. Mitchell, Helena, Montana." Mr. Mitchell, who was a dealer in Mitchell automobiles. The Bovey automobile collection contained several Mitchell's that once stood in his showroom where this piano presumably furnished music. The piano, strangely enough, had made its way to Savage, Minnesota, where Charlie found it years after he bought the cars.